Controllable Warmth Where You Need It
High quality electric heating systems supplied and fitted by the local experts.
We are specialist electric heating installers.  We offer a range of electric radiators, HHR storage heaters and hot water solutions.  We will find the right heating for you and expertly install it.
If you need to update your electric heating or hot water then book a survey below and we will be in touch to have a chat about your requirements.
* By an engineer not a pushy salesperson!!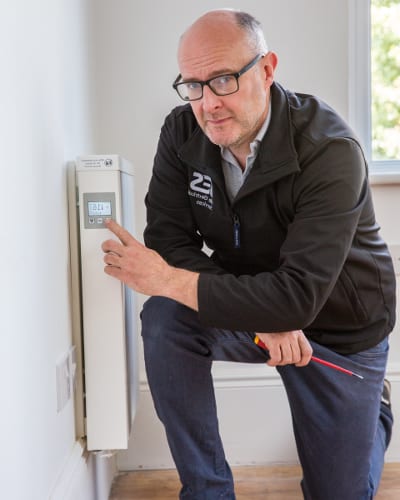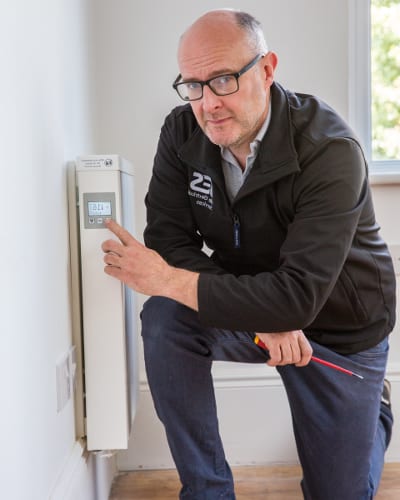 An Effective Heating Solution Installed Quickly and Professionally
We are experts in fitting heating to replace existing electric systems or 'wet' gas/oil systems.  Whether you are fed up of your greedy storage heaters or want to move away from Fossil fuel powered heating we can help from design through to installation.  We can also help with any hot water requirements.
We don't just care about heaters, we care about providing you with the best possible solution.
Great range of radiator style and options.
Easy to use controls.
Installations by our 'in house' professional, registered Electricians.
Eco friendly fossil fuel free heating.
Take a look at our latest work.  All these jobs were completed by our friendly in house team.  Our years of experience can guide you in getting the right heaters for your space whether it be a home, office, garden cabin, church, public hall or Student accomodation.  Installations are well planned and hassle free.
We've got a wide and diverse range so whether you are looking for powerful heaters to warm a draughty flat or something stylish and effective for the office, we can help.
You may have lots of questions.  We've answered some of the most common ones here.  Feel free to email or call with any other questions.
You contact us via the 'Free Survey' button or on 020 8419 8345.  Our friendly office team will answer any questions you may have.  When you are ready, we will arrange for our local engineer to visit your home and assess your heating needs. This is NOT a sales call, just a chance to demonstrate our product and talk you through the installation.
A detailed quotation is sent to you by email or post.
If you accept the quotation we will order your radiators and book a day with you for the installation.  Most installations are completed in one day with very little disruption.
on the different types of electric heaters